Hue 1-day tour is an option not to be missed when traveling to the ancient capital of Hue with many attractive destinations, learning about the culture and history of the ancient capital through the Royal Palace architectural works, mausoleums under the Nguyen Dynasty, Visit traditional craft villages and experience extremely unique royal cuisine, departing from Hue
07:30 – 08:30: Tour guide will pick you up at your hotel in Hue city center. We will start the trip to Toa Kham wharf, where you will board a boat and experience a dragon boat cruise on the Perfume River. On the way, the tour guide will introduce you to destinations such as Truong Tien Bridge, Khu Van Lau flagpole, Da Vien bridge…
09:00: Continue our journey and visit Thien Mu Pagoda – one of Hue's oldest pagodas, built in the 17th century. You will have the opportunity to admire the panoramic view of the city and learn more. about the country's history, culture and religion.
10:00: Next, we will visit An Hien Garden House – a beautiful and peaceful destination of Hue. You will enjoy the green space, relax and visit the unique architecture of the old house.
11:00: Then, we will continue to Hue Citadel – the royal palace of the Nguyen court. Here, you will discover the unique architecture of the buildings, The Mieu temple and learn more about the history and culture of the Nguyen Dynasty.
12:00: Lunch Buffet
13:00: After relaxing, we will continue our journey to two historical mausoleums of Hue:
Emperor Minh Mang was the second emperor of the Nguyen court, reigning from 1820 to 1840. He was one of the special emperors of the Nguyen court with policies of economic reform and development. , culture, education. His resting place is Minh Mang Mausoleum, built in 1840 with Royal Classical and Western style architecture. This is one of the most beautiful mausoleums in Hue with sophisticated, harmonious patterns and balanced layout.
Emperor Khai Dinh was the 12th emperor of the Nguyen Dynasty, reigning from 1916 to 1925. He was known for his policies of reform and economic development, education, and culture. His resting place is Khai Dinh Mausoleum, built in 1925 with an architectural style combining tradition and modernity. Khai Dinh Tomb is considered one of the most unique architectural works in Hue with exquisite details, patterned images and unique sculptures.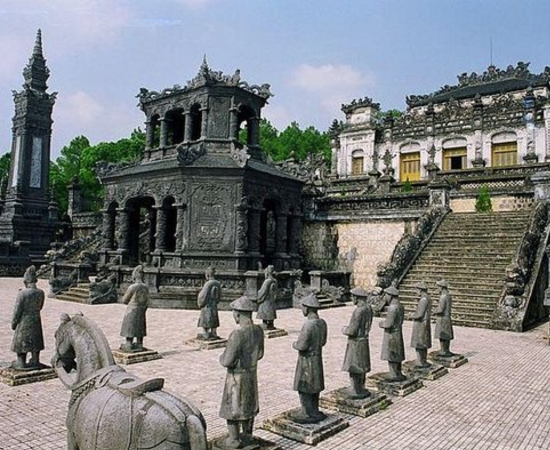 15:00: Finally, we will visit Xuan Thuy Hue Fragrance Village, where Hue's typical fragrance is produced. This is one of the favorite destinations of tourists when coming to Hue.
16:00: Car takes you back to your hotel, ending of Hue ancient City Tour.