Day 1: Arrival, Hanoi
Upon arrival, you will be met by a driver and taken to hotel in the city. Checking in to your accomodation and rest of the day will be at your own leisure. Overnight in Hanoi city.
5* Preferred: Apricot Hanoi, Hotel de L'Opera Hanoi, Sofitel Legend Metropole
Overnight: Hanoi
Meals: non-included
Day 2: Hanoi City Tour (B,L)
Ha Noi – the capital of Viet Nam is also one of the most attractive destinations for domestic and foreign tourists in Vietnam because of its ancient appearance, quiet, elegant and hidden beauty in this thousand-year-old city of civilization! 
Tran Quoc Pagoda – located on an island east of West Lake (Tay Ho district). The pagoda has a history of nearly 1500 years, considered the oldest in Thang Long – Hanoi. Its architecture has a harmonious combination of majesty and antiquity with an elegant landscape amidst the quiet background of a vast lake. 
Visit the Ho Chi Minh Mausoleum relic site, the resting place of President Ho Chi Minh who leds Vietnam to independence from French colonial rule. His preserved body has been an important landmark in the capital city since 1975, and a perfect place to learn more about Vietnam's history.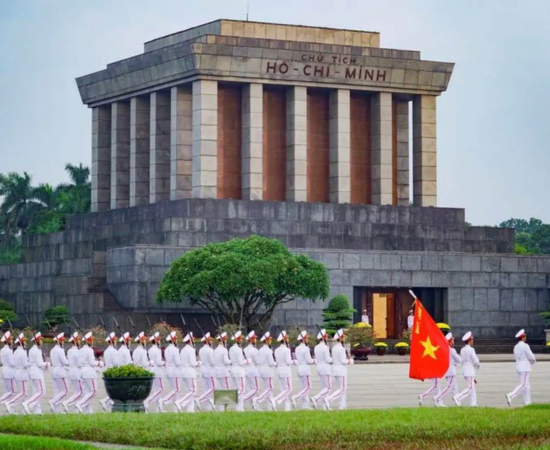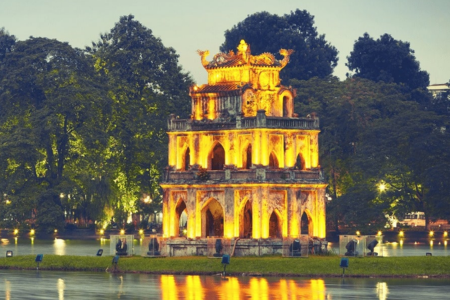 One Pillar Pagoda, a small pagoda built on a pillar in the middle of a square lake, is also a symbol of Hanoi.
Hoa Lo Prison – built by the French in 1886, the prison is famous because it was the place where many great Vietnamese revolutionaries during the Indochina War and American pilots during the War were detained
Temple of Literature – Quoc Tu Giam, which is considered the first university in Vietnam. It is an ancient architecture, built on a fairly large scale, built in October 1073 and exists to this day. The Temple of Literature was built to worship Confucius, the founder of Confucianism, and Chu Van An – principal of Quoc Tu Giam – represents the high moral philosophy of Vietnamese education.
Overnight: Hanoi
Meals: breakfast, lunch
Day 3: Ninh Binh Tour (B,L)
After 1 day exploring Ha Noi, in day 3, you will have chance finding out Ninh Binh – a stunning province boasts similar limestone karst topography that rises from emerald rice paddy fields and winding rivers. Coming to this destinations, you will explore:
Hoa Lu, the ancient capital city of the Dinh Dynasty and Bai Dinh pagoda, the largest pagoda complex in Vietnam. Tourists will find out the cultural identity of this area and understand more about the cultural, architectural and sculptural values associated with the legend about the foundation of Dai Co Viet (an old name of Viet Nam country).
Hike to the peak of Ngoa Long Mountain and get amazing views of Tam Coc and the Ninh Binh area. 
Trang An grottoes, was off cially recognized as world heritage site since 2014. The area is unique in having been invaded by the sea several times in the recent geological past but is now emergent on land. The blend of towering mountains draped in natural rain forest, with large internal basins and narrow cave passages containing quietly flowing waters, creates an extraordinarily beautiful and tranquil landscape.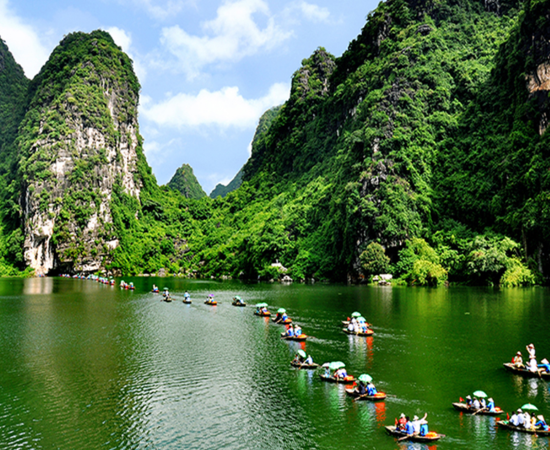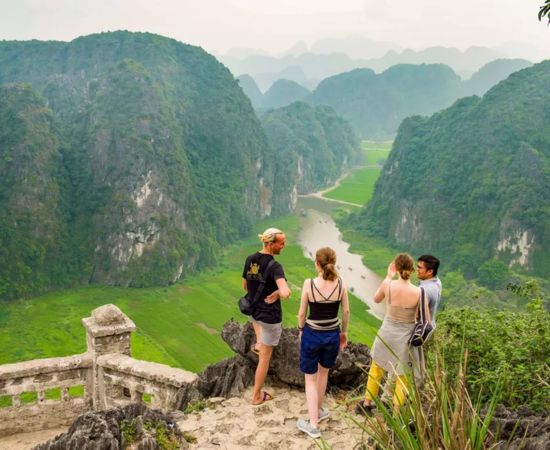 Tourist in Hoa Lu, Ninh Binh
Overnight: Ninh Binh
Meals: breakfast, lunch
Day 4: Ha Long bay (B,L,D)
After having breakfast and saying goodbye to beautiful Ninh Binh, you will continue your trip to Ha Long – a must-visit destination to discover the stunning beauty of the World Natural Heritage Site. You will explore:
Tuan Chau Harbor, get on the boat to start the excursion discovering the beauty of the world heritage site. Here are some images of Tuan Chau Harbor that visitors experienced: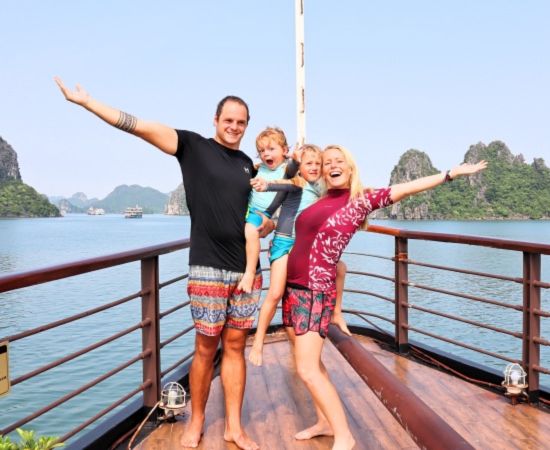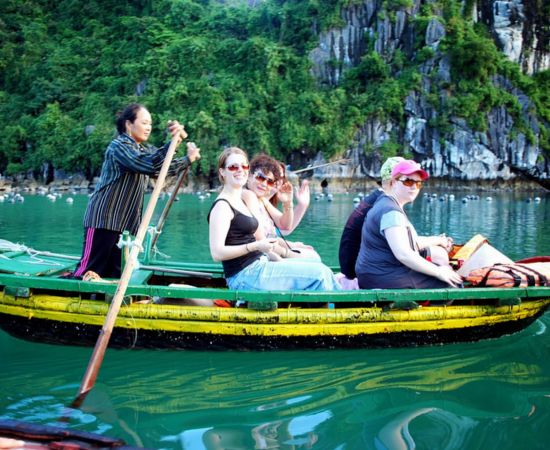 Cua Van floating fishing village by bamboo boat or by kayaking. For Kayaking, shorts or swimming suit are recommended
Visit TiTop Island with its sandy beach. You can go swimming here or trek up to the top of the island for sightseeing all of Halong bay
Overnight: on board
Meals: breakfast, lunch, dinner
Day 5: Halong Bay – Hanoi (B,L)
Enjoy a memorable morning in the middle of Halong Bay. Early risers can catch a stunning sunrise and breakfast will be served (brunch on some boats) while the vessels cruises slowly back towards port. Disembark and transfer to Hanoi.
Overnight: Hanoi
Meal: breakfast, brunch
Day 6: Hanoi – Dong Hoi (B)
Be free in the morning till it is time to take the flight to Dong Hoi. Upon arrival, a guide will be waiting to transfer you to your hotel. The rest of the day is spent at your leisure.
Overnight: Dong Hoi
Meal: breakfast
Day 7: Dong Hoi Sightseeing (B,L)
Welcoming to Dong Hoi city, you will immerse yourself into the majestic cathedral-like caves of Phong Nha Ke Bang National Park. In particular, you will visit:
Phong Nha National Park – explore a lush forested landscape filled with rocky karsts and begin a journey of discovery into the majestic landscapes and fascinating ecosystems (including eyeless fish) of the longest dry cave in Asia. You will enter the mystical tunnels filled with mighty stalactites and stalagmites and visit the Paradise Cave before returning to Dong Hoi.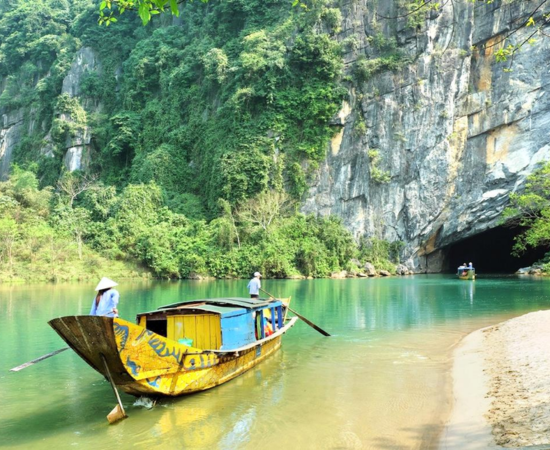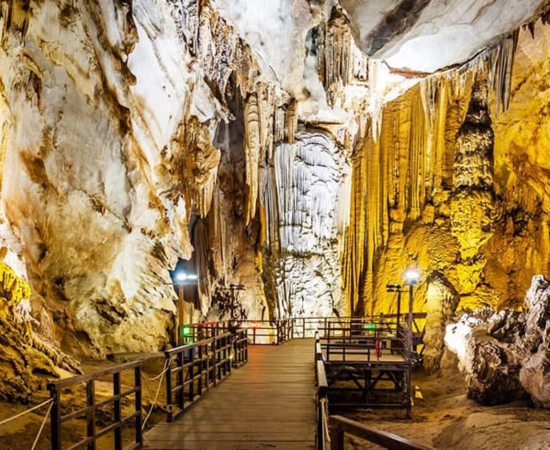 Stunning nature in Phong Nha – Ke Bang
Overnight: Dong Hoi
Meals: breakfast, lunch
Day 8: Dong Hoi – Hue (B,L)
Having breakfast and saying Goodbye to Dong Hoi, tourists will depart to Hue – the ancient capital of Viet Nam. On the way, you will experience more about:
Vinh Moc Tunnels – The Old DMZ (Vietnamese Demilitarized Zone), which were bomb shelters predominantly for civilians. Secretly built between 1966 to 1967, the red soil had to be dispersed under the cover of night to avoid detection by enemy surveillance. Three different levels were constructed with 13 entrances/exits, including seven to the coast. During bombing raids, village life carried on undergrounds.
The followings are some images of outside and inside this meaningful tunnel: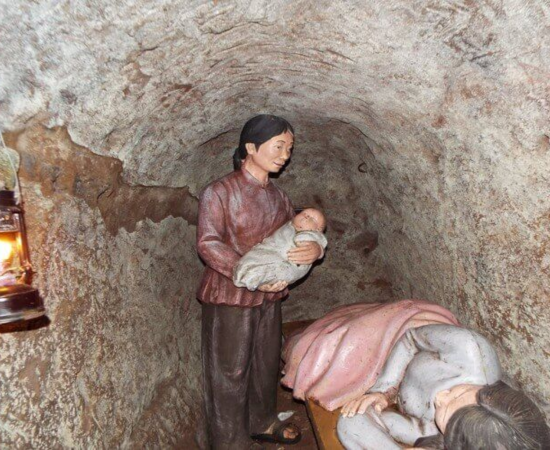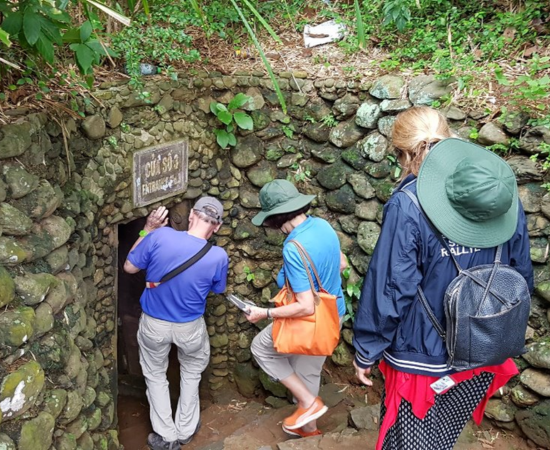 Hien Luong Bridge Ben Hai River, has been the boundary separating the two parts of the country, the North and the South of Vietnam.
Then you will arrive Hue, have lunch at a local restaurant before check in hotel and the rest of the day is spent at your leisure.
Overnight: Hue
Meals: breakfast, lunch
Day 9: Hue Sightseeing (B,L)
Start the 9th day, let's enjoy breakfast at your hotel before exploring Hue's famous citadel and the illustrious examples of grand dynasties past. Specifically, coming to Hue, tourists will visit:
Royal Tomb of King Ming Mang – the second ruler of the Nguyen Dynasty, governed southern and central Vietnam from 1820 to 1840. This majestic tomb is renowned for its architecture and sublime forest setting.
Peaceful Perfume River, taking in the endless surrounding greenery. Hop of at the pier and visit to the seven-storeys Thien Mu Pagoda, considered by many as the unofficial symbol of Hue.
Hue's Imperial Citadel, the capital city of a reunified Vietnam in 1802 until 1945 under the reign of the Nguyễn dynasty. It was the cultural, spiritual and political heart of the country during this time, has a circumference of 10 kilometers with the height of 6.6 meters and 21 meters thick with forts being meanderingly arranged, accompanied by cannons, artilleries and ammunitions, which can be divided into two main parts: The Citadel and the Forbidden purple city.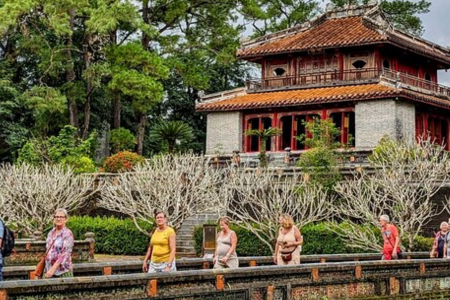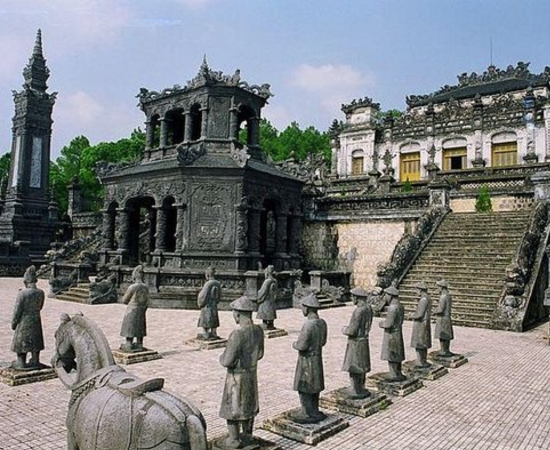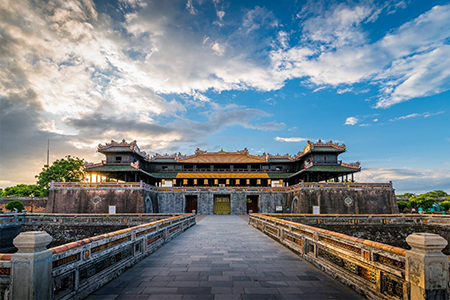 Absorb the energy, sounds and odors of the bustling Dong Ba Market before drive back to your hotel.
Overnight: Hue
Meals: breakfast, lunch
Day 10: Hue – Danang – Hoi An (B,L,D)
Departing from the hotel in Hue in the morning , then you will drive to Hoi An by Hai Van Pass ("Pass of the Clouds") – the longest and highest mountain pass road in Viet Nam with a length of 21km. Along the way, you will:
Stop by Hai Van Quan, which sits at the top of its namesake mountain pass in central Vietnam, separating Da Nang City and Thua Thien Hue Province.
Stop at the Cham museum, the Cham civilization ruled central Vietnam from the 2nd – 13th centuries and was considered extremely important for religion and learning.
Then you will have lunch at Danang local restaurant before going to Hoi An town. After that, you will arrive to Hoi An by private car in the afternoon, check in hotel and have some free time on your own.
Afterwards, set off on a culinary adventure in Hoi An to discover the flavours and dishes that make this coastal town and its cuisine so unique. Alongside an expert local guide, your journey introduces you to the stories behind Hoi An's most iconic dishes at the town's most famous eateries. In Hoi An, you will have chance to:
Visit a local restaurant famous for white rose dumplings, found exclusively in Hoi An. Sit back and enjoy the wonder of the locals working here, who churn out up to 6000 of these dumplings every day! Your visit here includes a chance to try making a few of your own dumplings before sampling a few.
Try another local specialty: banh can crackers. Served with quail eggs, pork and a tasty salad, this dish is a highlight of Hoi An street food culture and a must-try for every visitor.
Pull up a street-side stool and enjoy it with your guide. As visiting inside the town, tourists will explore more about the traditional culture of this ancient city. 
Sample grilled pork satay and spring rolls at a local restaurant. Next up is fried wonton – lovingly referred to as a "Hoi An pizza" – and finally try the famous Cao Lau noodle or chicken rice.
Stop at Sky Coffee Bar, a local favourite within the Hoi An Museum. Here, you will have an overview of all the landscape in Hoi An when coming to the rooftop.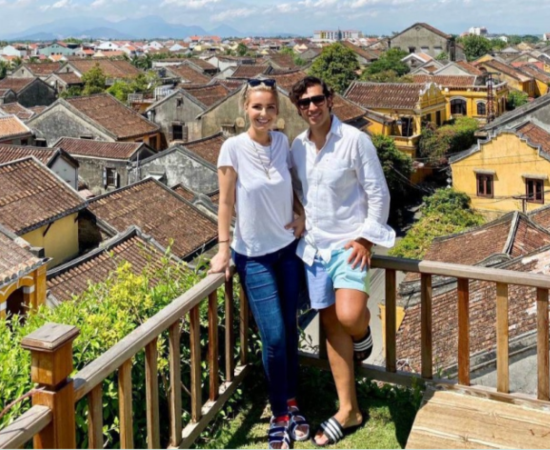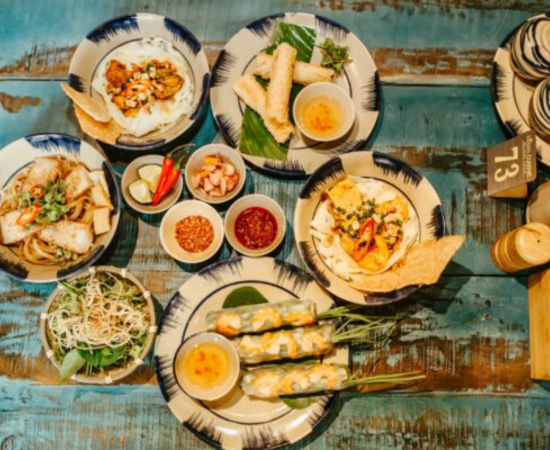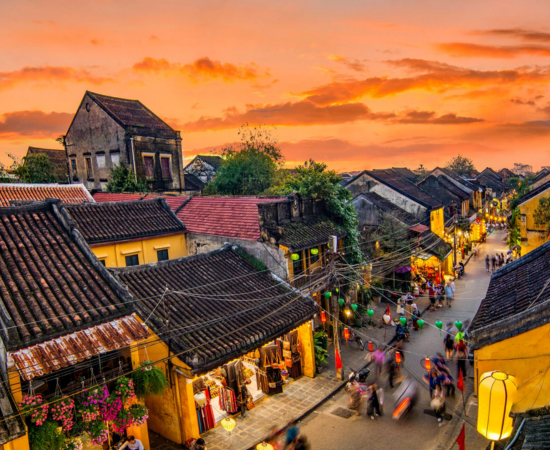 Some experiences in Hoi An in images
Overnight: Hoi An
Meals: breakfast, lunch, dinner
Day 11: Hoi An – My Son – Hoi An (B,L)
In the 11th day, you will continue experiencing Hoi An with some must-try activities like:
Visit My Son Sanctuary – the remains of Kingdom of Champa, a remarkable architectural ensemble that developed over a period of ten centuries. It presents a vivid picture of spiritual and political life in an important phase of the history of South-East Asia
Visit Phuc Kien Assembly Hall to see the Jinshang Temple which is dedicated to the goddess of the sea and the protector of sailors. 
Visit Thu Bon river. Here, sitting on a boat, you will be attracted by the bustle of craft villages along the river's bank such as Thanh Ha for pottery, Phuoc Kieu for bronze casting, Tra Que for vegetables, Ma Chau for silk and Phu Chiem for rice paper. Besides, visitors also can enjoy some local markets to experience deeply the rural life and friendly people here.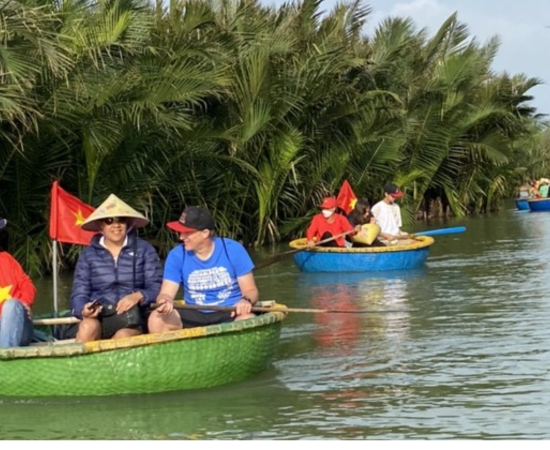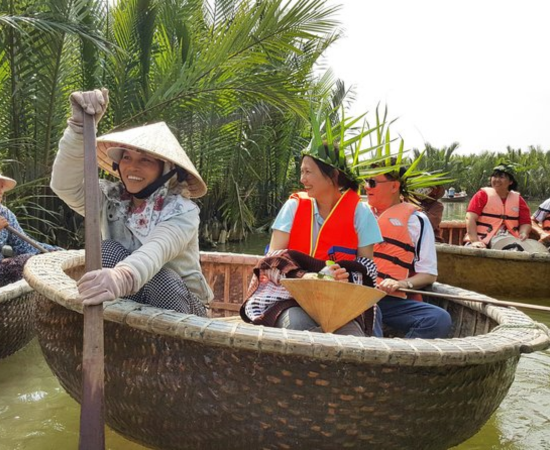 Tourists' experiences in Thu Bon river
Overnight: Hoi An
Meals: breakfast, lunch
Day 12: Hoi An – Danang – Ho Chi Minh City (B)
Saying goodbye to Da Nang, Hoi An, you will have free time till your guide meets you and escorts you to airport for your flight to Ho Chi Minh City. Upon your arrival in Ho Chi Minh City, our guide will meet you and escort you to your hotel, the rest of the day is on your own.
Overnight: Ho Chi Minh City
Meals: breakfast
Day 13: Ho Chi Minh City Sightseeing (B)
Formerly known as Saigon, Ho Chi Minh City is a vibrant and dynamic metropolis full of contrasts, where street vendors and old pagodas stand alongside modern business and shopping centers. Start exploring Sai Gon, tourists will visit:
Reunification Palace, here on April 30th 1975 the war officially ended when tank number 843 of the North Vietnamese Army crashed through the gates of what was, at the time the residence of the President of the Republic of Vietnam.
War Remnants Museum, this popular museum gathers a comprehensive collection of the war machinery, weapons, artifacts, documentation as well as a touching photographs exhibition dedicated to both foreign and Vietnamese journalists.
Notre Dame Cathedral and the Old Central Post Office, two of the best examples of classical old Saigon architecture.
Saigon's Chinatown, trading center of the Vietnamese and Chinese communities in Saigon. This place also preserves the intact architectural value of the Chinese people from hundreds of years ago.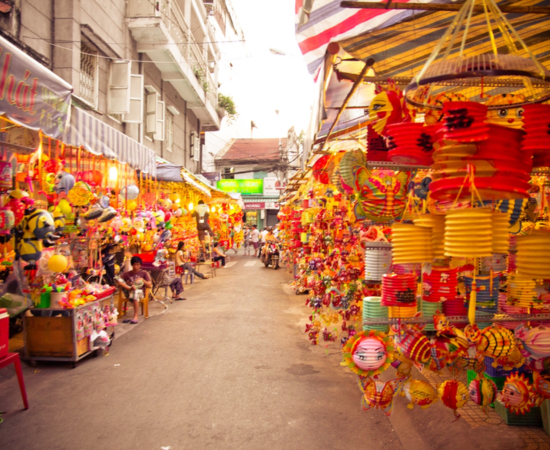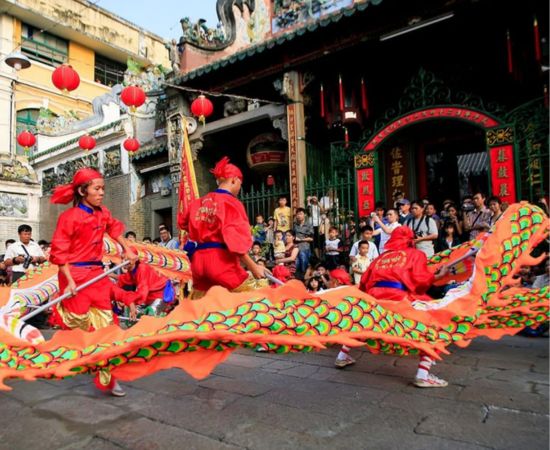 China Town in Sai Gon
Thien Hau Pagoda: also known as Ba Cho Lon Pagoda, is one of the pagodas with the oldest history of Chinese people in Ho Chi Minh City. Besides the value of architectural art, sculpture, and ancient artifacts, this place also has another value, which is not only a place to meet religious needs but also a place to gather and support each other.
City Post Office: an indispensable sightseeing destination for tourists when coming to Ho Chi Minh City, an ancient architectural work, more than 120 years old.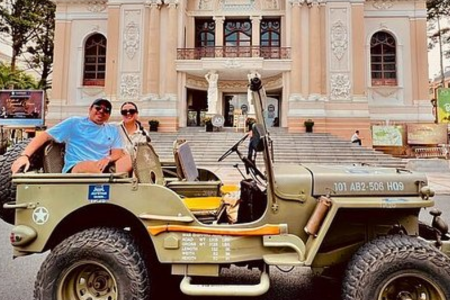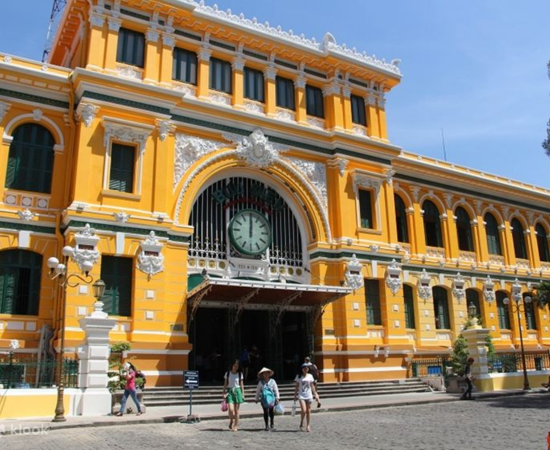 Tourists explore stunning Ho Chi Minh city
Overnight: Ho Chi Minh City
Meals: breakfast
Day 14: Ho Chi Minh City – Mekong Delta – Ho Chi Minh City (B,L)
Depart from your hotel in the morning and drive approximately two hours to Ben Tre, here you will start experience more about life and cultures in the South area of Viet Nam. You will:
Explore Mekong Delta – where you will board a small boat to start your sightseeing around the waterways of this delta. Well – known also as the rice bowl of Vietnam because of its large rice production, the area has also diversified into activities related to aquaculture, rearing of animals, cash crops and fruit trees.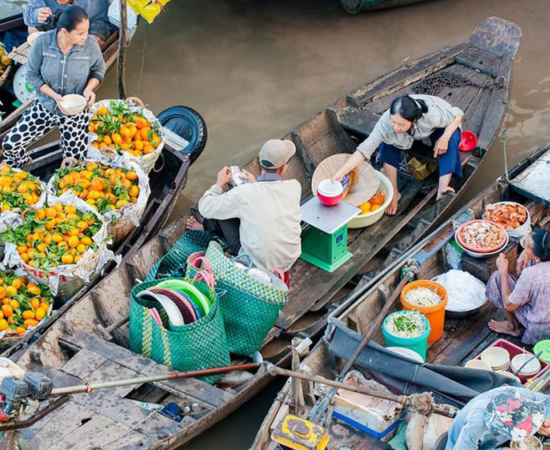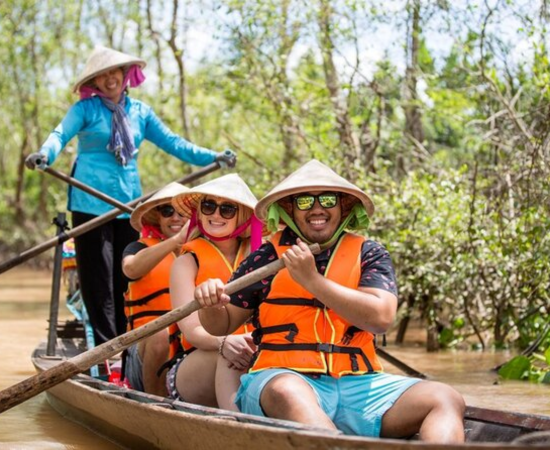 Some experiences of visitors when exploring Mekong Delta
Stop at a small homemade coconut processing plant to see how coconuts have been turned into oil, candy and woven mats that are later sold in the market.
Have a short walk to a local village to see mat weavers at work, before jumping on the Delta's version of a tuk tuk (xe-lôi) and travelling down country roads to reach a nice local riverside restaurant for lunch.
Take a short cycling tour to explore the surrounding fields before boarding a sampan for a tranquil trip along the picturesque canals.
Visit Ben Tre local market before heading back to Ho Chi Minh City, arriving late in the afternoon. Enjoy one last night out on the town exploring the famous nightlife of Saigon and your final taste of Vietnam.
Overnight: Ho Chi Minh City
Meal: breakfast, lunch
Day 15: Ho Chi Minh City, Departure (B)
You will have free time till your guide escorts you to airport for your flight to next destination, ending 15 days Viet Nam Tour. 
Meals: breakfast